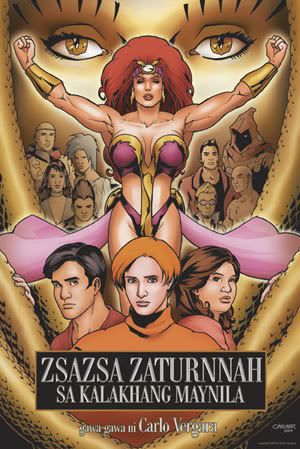 Did I ever post this drawing before? I don't remember...

One of the methods I use to develop stories is imagining what the poster would look like, even the "trailer," as if the story were a movie. These products of brain matter provide me with clues as to the kind of mood I want to carry throughout whatever story I have in mind. They also help me pin down key scenes and dialog. The Zaturnnah sequel is no exempt.

This poster concept was drawn and rendered over two years ago, when I was writing the first directionless draft of the sequel. Since then, so many changes have taken place. For one thing, Didi won't be in the sequel. The official sidekick will be Gwyneth, the designer of the Zaturnnah costume. Also, a number of the characters depicted in the hypothetical poster won't be in the sequel. They seemed like good ideas at the time, but turned out to be useless or cumbersome when the new script came along.

Yes, world, it's true. Even if you've written half of your masterpiece, you'll still find it in you to dump a whole chunk of it in the waste bin and fiddle with the manageable scraps. That's what happened to me. The original piece simply didn't work. Did I feel like it was a waste of time? No, not at all. It was all part of the learning process, improvement through failure and all that jazz.

I won't open my mouth and give out a date. Burned am I as far as that goes. But when I'm done with my Graphic Classics project (the deadline looms), my third child will definitely come next.