Clean Pencils
During the entirety of my making comics, I've never really had the need to do clean pencils on a full page, since I'm always the one doing the inks. I'd just do simple outlines on the page then go straight to inking. Sometimes I'd do clean pencils for particularly difficult poses or angles in a panel, but my usual method works better for me since I'm usually pressed for time.
It doesn't help that I'm skewed towards the realist school of comics illustration, as opposed to the simplistic iconic styles used by such artists as James Kochalka and Craig Thompson. When I hear about Bryan Hitch being a slow artist, I can fully understand how difficult it can be to rush the kind of pages he dishes out. The man's work is amazing, albeit frustrating fans with the waiting time.
I have to make clean pencils even if I'm doing my own inking to avoid the mistakes I don't readily see. There's this little rule in illustration that prompts an artist to "check" his work in the mirror. If the piece looks as good in reverse then it's a green light. Many times have I checked my own work in the mirror and gagged at the horrific reflection.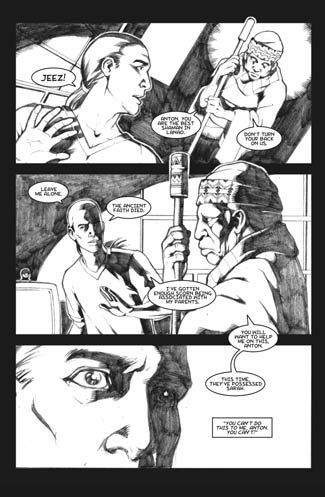 Doing clean pencils quickly and consistently is something I have to get used to. I plan to submit more stuff to comics companies. Though that's still a way's away, there's no harm in training myself now. The piece shown here is part of a short story written by Jason. The challenge is getting the 15-pager done as quickly as possible without sacrificing quality.
Accch! Hands will ache.